Recycling Services
In an effort to support other university sustainability initiatives, Recycling Services strives to divert as much recyclable material as possible from our waste stream. As a division of Facilities Services, our program has expanded tremendously in scope and capacity, now recycling well over one million pounds of material annually. Recycling Services focuses on collection of paper, commingled drink containers, wood, metals, and corrugated cardboard. Other departments at ECU recycle automotive fluids, batteries, cooking grease, electronics, and ink cartridges. The university is committed to sustainability, and encourages the campus community to recycle as much as possible.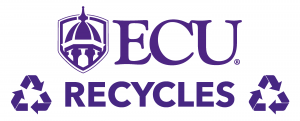 In addition to the staff above, it is important to thank the most important members of the recycling community-you. Recycling is not only important for the environment, but it is also much more cost effective than waste removal. Items that are recycled avoid tipping costs, and actually bring revenues back to the university. Please recycle as much as possible when on campus, and in your local community when off-campus.
Contact Information
Terry Little
Recycling Coordinator
East Carolina University
Building 172
Greenville, NC 27858
Ph: 252-328-2892
Fax: 252-328-0782
littlet@ecu.edu
Centralized Collection
Centralized collection is important to the success of recycling at ECU. Thousands of bins are located throughout the university, placed as conveniently as possible inside each building. Recyclable materials are most recoverable and marketable when placed in their proper containers. Please refer to the chart below for tips on how to recycle.
ECU Recyclable Materials Sorting Chart
Recycle
Notes
Mixed Paper
Includes: Office paper, bagged shredded paper,
newspaper, envelopes with plastic windows, etc.
Please no magazines, glossy paper, cups, food wraps, Styrofoam, or trash. Staples and paper clips are ok. No binder clips or A-clips. No spiral-bound notebooks or 3-ring binders.
Cans & Plastic
Includes: Metal cans, plastic bottles, tubs, jugs, and jars.
Please empty and rinse before recycling. No glass.
Cardboard Boxes
Includes: Cardboard boxes and other cardboard materials.
No Styrofoam packaging materials, wax/coated or food- contaminated cardboard in this category. Housekeeping will place beside nearest dumpster for pick-up.
Scrap Metal and Wood
Includes: All scrap metal, wood, and wood pallets.
No Styrofoam, metal crate straps, or heavy duty plastic wrap in this category. No plywood, painted, or salt-treated wood.
Batteries
Includes: All batteries.
Faculty and staff may contact safety@ecu.edu for pick-up.
Ink/Toner cartridges
Includes: All print or toner cartridges.
Faculty and staff can give used cartridges to Office Depot or Staples delivery representatives.
Special Event Recycling
Special event recycling is a key component of Recycling Services' program. Look for our blue commingled bins at Barefoot on the Mall, football and baseball games, Earth Day, and other large on-campus events.
Annual Events
Move-in-Weekend
Each Fall, as thousands of students return to campus, Grounds Services assists in recovering cardboard during Move-in-Weekend. Tens of thousands of pounds of cardboard are recycled each year during this period of time.
Give-N-Go
Thanks to Volunteer Services and Campus Living, ECU is able to help student residents donate their used items as they move out. Collection points are placed near each residence hall lobby, where household items, clothing, and food can be donated. This event helps local charities and greatly reduces waste.
Recyclemania
Campus Living and Campus Dining are instrumental in supporting Recyclemania each year. RecycleMania is a friendly competition and bench marking tool for college and university recycling programs to promote waste reduction activities to their campus communities.
Books for Africa
Hardback books are recovered throughout the academic year. Fortunately, most of these books can be donated. Thanks to this invaluable organization, we are able to assist in attempting to end the book famine in Africa.
Residence Hall Collection
Recycling bins are available throughout each residence hall on campus. Large blue bins for commingled drink containers are located in each floor's trash room. Paper bins are located in each lobby, or the nearest residence hall computer lab. Housekeeping Services places the commingled material outside, where it can be removed by Recycling Services.
Commingled Drink Container Collection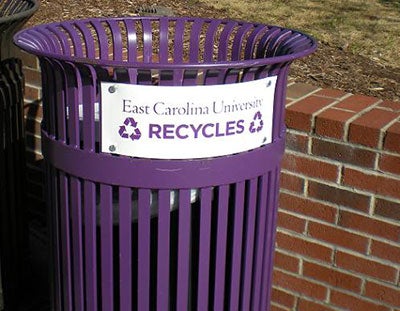 In addition to the metal drink container bins located throughout campus, large green and white containers have been placed at each Campus Dining location. When full, Campus Dining empties these containers, and places the material outside, where it can be removed by Recycling Services.
Recently, additional commingled bins have been placed outside, in some of ECU's highest traffic areas. These large metal containers have been refurbished. Old, damaged garbage cans were removed from campus, and painted purple. New lids and signage were added. As a result, we now have sturdy, long lasting outside bins, at a minimal cost. Additional bins will be placed throughout the university, as our program expands.
Additional Services for Staff and Faculty
Office Clean-outs
Recycling Services can provide barrels for office clean-outs. Paper from these clean-outs provides a substantial percentage of our collection. Please call 252-328-6096 for more information.
Shredded Paper
Although Recycling Services doesn't shred paper, shredded paper can be picked up from your area. Please bag and consolidate the material, and call 252-328-6096 for pick-up.
Confidential Recycling
Removal of confidential material from the university is a delicate issue. Disposal into the waste stream is not advisable. Recycling Services can remove this material from your department upon request. Although this material will be handled as confidentially as possible, it is advisable that sensitive materials be shredded by the department, or through an independent contractor. Please contact 252-328-2892 for more information.
Hardback Books
Recycling Services can pick up hardback books. Books will be donated or recycled. Please call 252-328-6096 for pick-up.
Community Outreach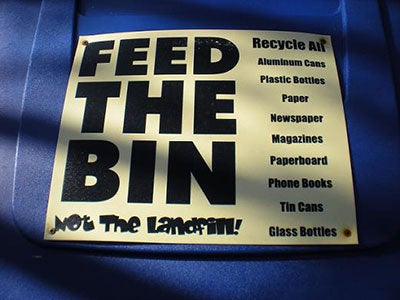 Recycling Services is also active in community outreach. Through a partnership with recycling coordinators and staff from the City of Greenville, Pitt County, ECVC, and Waste Industries, a project called Feed the Bin was initiated. The goal of this project is to provide education and recycling capability for all 5th graders throughout the Pitt County School system. This ongoing project has greatly reduced waste in the area, and is helping to establish a long-term positive culture for recycling in our community.
Pitt is tops in state's per-capita recycling rates – The Daily Reflector
Recycling Services also partners with Keep Greenville Beautiful in promoting recycling, litter reduction, and beautification in our community. This organization welcomes new members and volunteers! Please see the link below for more information.
https://www.facebook.com/KeepGreenvilleBeautiful/
Links